Don't Panic! Lighten Up!
DALLAS - There have been more than a few athletes accused of doping over the years _ but the competitors at the "Texas Redneck Games" might just be dopes.
---
Rueters
Reuters
Wed, 08 Aug 2007 21:49 UTC
---
AFP
Wed, 08 Aug 2007 20:22 UTC
Residents in the Russian nuclear research town of Sarov got a jaw-dropping surprise on Tuesday when a crocodile fell from the twelfth-storey apartment of its owner, the emergency situations ministry said.

The one-metre (3.3-feet) caiman crocodile landed on a pavement after leaning too far out of the window of the apartment where it had lived for the last 15 years, the RIA Novosti news agency quoted an official with the local branch of the ministry as saying.
---
CNN
Wed, 08 Aug 2007 14:57 UTC
NEW YORK -- Passengers aboard Spirit Airlines Flight 180 from Fort Lauderdale, Florida, to New York's LaGuardia International Airport had an unexpected travel companion Tuesday: a small monkey.
---
Activist Reverend Al Sharpton organised rallies across the US overnight calling for pension funds to be pulled out of the music industry until rap lyricists stop employing the "n-word" and terms degrading to women.

"We're talking about Viacom, Time Warner, Vivendi," three entertainment conglomerates that Mr Sharpton said would be pressured to clean up musicians' lyrics if threatened by the withdrawal of government-run pension fund investments.

Time Warner sold its music business, including such labels as Atlantic and Reprise, to a private equity group in 2004.
---
Germany's national railway wasn't about to risk sending a trainload of soccer fans to a German Cup match without beer.

Federal police said Monday that the beer tap failed aboard a special train carrying Bayer Leverkusen fans to Hamburg on Saturday. The fault was discovered half an hour into the journey.
---
A man who is registered blind and has never driven a car in his life has been accused of a speeding offence - and he was not even in the country at the time.
Mohammed Ilyas Ayub, 38, received a letter from West Yorkshire police stating he had committed the offence after the actual culprit gave false details to the authorities.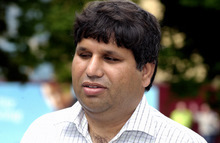 ©Unknown
Mohammed Ilyas Ayub
Mr Ayub, who has been blind since birth, was in Pakistan at the time of the incident.
---
UPI
Tue, 07 Aug 2007 14:15 UTC
A British company says it has an eco-friendly alternative to cremation: boiling bodies into dust.

In the process, called resomation, the body is encased in a silk coffin and submerged in water mixed with potassium hydroxide. It is then heated to 302 degrees Fahrenheit, which rapidly turns it into a white dust, The Mail on Sunday reported.

The process is more eco-friendly than cremation, during which a body is heated to 2,192 degrees Fahrenheit, letting off harmful fumes such as mercury, according to Resomation, the firm selling the boiling process. Instead, the company says, it is essentially a much faster version of natural decomposition.
---
AP
Tue, 07 Aug 2007 02:55 UTC
EL PASO, Texas - A pickup truck hit a boulder and tumbled over a 150-foot cliff, but the 71-year-old driver survived, officials said.

"It was a miracle that someone saw her vehicle," Sheriff's spokesman Rick Glancey said. "It is one of these days when God was on her side."
---
A bus driver struck a passenger about the head with a phone after the rider refused to give up his seat to an elderly woman, police said.

The driver, Larry Woods, 44, and the rider, Christian Custis, 22, were arrested and charged with assault and harassment after the incident on the Q43 bus in the Jamaica section of Queens. Woods was also charged with criminal possession of a weapon. The men were arraigned in Queens Criminal Court.
---