It's the coldest of cold cases, and yet it keeps warming to life. Seventy years after Amelia Earhart disappeared, clues are still turning up. Long-dismissed notes taken of a shortwave distress call beginning, "This is Amelia Earhart...," are getting another look.
The previously unknown diary of an Associated Press reporter reveals a new perspective.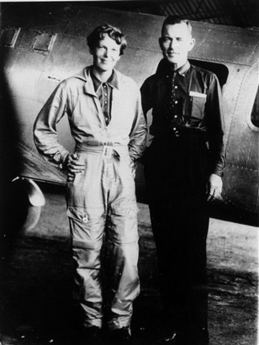 ©AP
Famed aviator Amelia Earhart and her navigator, Fred Noonan, pose in this file photo in front of their twin-engine Lockheed Electra in Los Angeles at the end of May, 1937, prior to their historic flight in which Earhart was attempting to become first female pilot to circle the globe. A clear plastic shard found on Nikumaroro island in 1977 matches thickness and curvature of the Lockheed Electra windows.