BETTMERALP- Hundreds of naked people formed a "living sculpture" on Switzerland's Aletsch glacier Saturday, hoping to raise awareness about climate change.
The photo shoot by Spencer Tunick, the New York artist famous for his pictures of nude gatherings in public settings worldwide, was designed to draw attention to the effects of global warming on Switzerland's shrinking glaciers.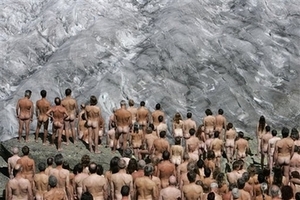 ©(AP Photo/Keystone, Laurent Gillieron)
Hundreds of naked people pose in front of the Aletsch glacier during a massive naked photo session with U.S. photographer Spencer Tunick, near Bettmeralp, Switzerland, Saturday Aug. 18, 2007. The environmental group Greenpeace commissioned Tunick to take pictures of nude volunteers on a Swiss glacier to call attention to the issue of global warming and its impact on glaciers.