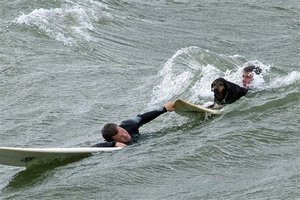 ©AP Photo/Don Dobbin
Surfer Joe Riopelle, left, pulls in Matt Smolenski and a rescued dog Tuesday afternoon.
GRAND HAVEN, Mich. - A surfer rode a wave on his stomach to rescue a struggling dog that had been swept off a pier and into Lake Michigan by a wave.
Matt Smolenski, 25, said he grabbed the pooch's collar just as the exhausted, black-and-brown mixed breed stopped dog-paddling on Tuesday.