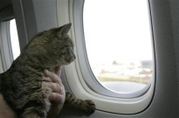 Paris - Emily the cat is heading home, in style. The wayward tabby from Wisconsin who disappeared two months ago and wound up traveling across the Atlantic to France boarded a Continental Airlines flight Thursday -— in business class.
Travel conditions leaving Europe promised to be a bit more comfortable for Emily, who arrived as a stowaway in a cargo container after straying from home in Appleton, Wisconsin.
"I don't think she'll drink champagne but I think she will be happy to rest," said Continental spokesman Philippe Fleury, at Charles de Gaulle airport to see Emily off. The airline offered to fly the cat home from Paris after her tale spread around the world and she cleared a one-month quarantine.