Orlando emptied its bureau drawers and closets on Friday of more than 250 unwanted guns -- and one surface-to-air missile launcher.
The shoulder-fired weapon showed about 6 p.m. when an Ocoee man drove to the Citrus Bowl to trade the 4-foot-long launcher for size-3 Reebok sneakers for his daughter.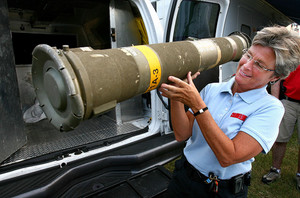 ©Red Huber/Orlando Sentinel
Orlando Police Sgt. Barbara Jones holds a surface-to-air missile launcher that had been turned in to the Orlando Police Kicks for Guns 2007 program on Friday.
"I didn't know what to do with it, so I brought it here," explained the man, who said he found the missile in a shed he tore down last week. "I took it to three dumps to try to get rid of it and they told me to get lost."