Some choose their own. Others think it too morbid. Some boast of achievement. Others want to be modest.
They can be witty or doom-laden, long or short, informative or tell you very little that's useful. Epitaphs, from the ancient Greek literally meaning "on the gravestone" and the text that honours the deceased commonly inscribed on a tombstone, come in many forms.
But in Britain they have one thing in common - they are in danger of being lost for ever. So serious is the situation that today a campaign is being launched to try to record as many as possible before it is too late.
Each year in England 25,000 gravestones are lost and with them the important historical information they contain.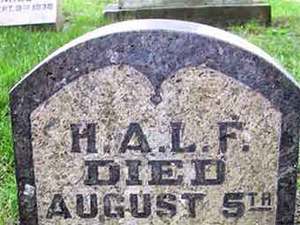 ©waterlooogs.ca
"People want nice tidy churchyards and don't want to mow around higgledy, piggledy gravestones so they move them and they break, or they lay them face down and they get forgotten then broken up for paving stones," said Richard Stuart, the director of the National Archive of Memorial Inscriptions who has made it his mission to record details of as many as possible.