Don't Panic! Lighten Up!
In response to my "Sea Serpent Snatching?" blog, cryptozoologist Matt Bille, author of 2006's Shadows of Existence, sent along a comment. He mentioned that there has been only one known case of the possible killing of humans by a Sea Serpent. I asked Matt to expand on this, and submit a guest blog on the account. He agreed and you will find his welcome overview of the incident below.
---
---
Oregon's capitol city is home base for a new paranormal research operation, and the group is already conducting investigations of potentially haunted locations in the Salem area.

Chris Califf, President of Salem Paranormal, says their team investigated areas of the Oregon State Fairgrounds on Saturday, January 13th, "SPI toured several of the facilities on the grounds where reports of murders and accidental deaths had occurred." The group was accompanied by State Fair representative Wayne Peterson.

Califf says that during their investigation, SPI was informed of an accidental hanging that occurred in a stall located at the horse barn.
---
An 80-year-old Chinese man has washed his hair for the first time in 26 years.

Shampoo had little effect on Luo Shiyuan's matted 6ft long hair and 5ft beard so the whole family pitched in with washing powder, reports Chongqing Morning Papers.
---
Paul Wolfowitz had a "toe"-totally embarrassing moment during his visit to a Mosque.

During an official visit to Turkey, Paul Wolfowitz, who heads the World Bank, revealed two giant holes in his socks on Sunday while on an appearance at an Ottoman-era mosque.

Wolfowitz was obeying local customs when he removed his shoes in the mosque in the city of Edirne in western Turkey.
---
Tony Blair has announced that the Government reaffirming its commitment to green issues by making the Iraq conflict the first ever 'carbon neutral war'.

British soldiers will be set green targets to ensure that carbon emissions caused by missile attacks are off-set by tree planting and recycling initiatives. Helicopter gunships firing depleted uranium will be 'partly' offset by army laundries using a washing-line instead of the tumble dryer.
---
CBS
Thu, 01 Feb 2007 16:27 UTC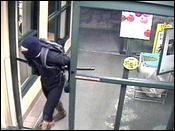 ©CBS
Enter the Ninja
Richfield, Minn. police are looking for a man who attempted to rob a Lunds grocery store in Richfield Saturday evening dressed as a ninja.
According to authorities, the suspect entered the store at about 10:30 p.m. dressed in skin-tight black clothing and armed with a samurai-style sword.
The suspect stood in line before he demanded the cashier turn over the money in the register, reportedly waving his sword in the air.
---
---
AP
Thu, 01 Feb 2007 15:21 UTC
WINDLEY KEY, Fla. - A dolphin's toy that resembled a bomb scared spectators Wednesday and prompted officials at a marine park to call 911. A dolphin playing in a tank at Theater of the Sea surfaced with several items, including one that looked like a homemade bomb.
---
Immigrants wishing to live in the small Canadian town of Herouxville, Quebec, must not stone women to death in public, burn them alive or throw acid on them, according to an extraordinary set of rules released by the local council.

The declaration, published on the town's Web site, has deepened tensions in the predominantly French-speaking province over how tolerant Quebecers should be toward the customs and traditions of immigrants.

"We wish to inform these new arrivals that the way of life which they abandoned when they left their countries of origin cannot be recreated here," said the declaration, which makes clear women are allowed to drive, vote, dance, write checks, dress how they want, work and own property.
---