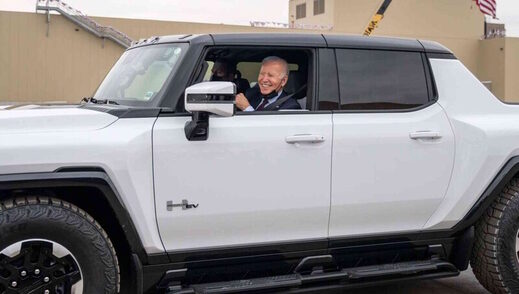 President Biden took to the streets of D.C. today to promote a brand new electric car, capable of holding at least seventeen boxes of highly-classified documents.
"I can get all of these top-secret files to my beach house on a single charge! Not a joke!" said Biden, cruising up Pennsylvania Avenue. "Wait, weren't there eighteen boxes? Eh, who cares. Who wants ice cream??"
President Biden drove the car as part of his climate initiative, hoping to encourage everyday Americans to purchase $100,000 electric vehicles. "While no one can afford the electric car President Biden was driving, which happens to be awful for the environment, he really wanted room for all the boxes," said Chief of Staff Ronald Klain. "We also were hoping to highlight that Americans can get a $7,500 tax credit for buying an electric car. However, we must clarify that the car Biden was driving isn't even eligible for the tax credit, and was selected exclusively for the number of file boxes it could lug around."
President Biden reportedly will take the car to Delaware this weekend to monitor while the FBI collects classified documents strewn about his beach home. "We did have to make a couple of special adjustments to the car before we hit the road," said Secret Service Agent Tom Rogers. "There's a steering wheel in the passenger seat for the agent who does the actual driving, but we did install a toy steering wheel in the driver's seat so Biden can pretend. We also had to remove all the USB ports, he's got this awful habit of trying to lick them. Don't ask me."
At publishing time, Secret Service had been forced to remove several classified documents from Biden's possession as he was attempting to feed them to the car as fuel.