A dozen riders on an Arkansas roller coaster spent half an hour hanging upside down - 150 feet above the ground - after a power outage shut down the attraction.
It took about 30 minutes for the city Fire Department to rescue the riders using a ladder truck Saturday evening, said Aundrea Crary, spokeswoman for the Springs & Crystal Falls amusement park.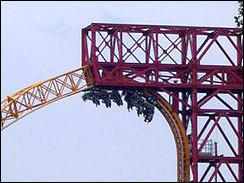 ©CBS
An amusement park visitor took this picture of the X-Coaster at Magic Springs when the ride froze, leaving 12 riders hanging upside down.