This plucky pensioner led police on a low-speed chase around Middlesbrough - and then gave officers the slip.
The lukewarm pursuit started after he caused traffic chaos by crawling down the fast lane of a busy dual carriageway.
Police asked the stubborn senior citizen to pull over. But he defiantly cranked his battery-powered mobility scooter up to its top speed - 8mph - and somehow managed to escape their attention.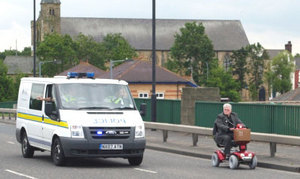 ©Gazette Live