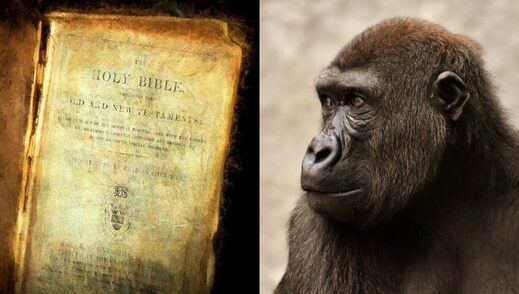 Where do we come from? Why are we here? These are questions a lot of people agonize over, though we're usually too busy doing more expedient stuff like watching Netflix. But, because y'all insisted, we got our lazy behinds off the couch and started researching the whole creationism vs. evolution thing. We watched YouTube videos, visited the Ark Encounter, and binged every episode of
Bill Nye Saves the World
. Several interns died to bring us this information, so please cherish it.
Origins
Creationism:
Man looked around at creation and was like, "Yep, this was definitely designed. Only an idiot would think otherwise."
Evolution:
It all began when a guy sailed to an island and saw a bunch of birds with different sizes of beaks which of course can only mean God is dead.
Beliefs
Creationism:
We were fashioned by the universe's greatest artist and engineer who loves us and has a plan for us. Also, Jesus probably rode a dinosaur at some point, which is pretty frickin' rad.
Evolution:
All life evolved from a rock billions of years ago totally by accident so you should just kill yourself because everything is meaningless. Talk about an uplifting worldview!