Let's be honest. Dark matter's a pain in the butt. Astronomers have gone to great lengths to explain why it must exist and exist in huge quantities, yet it remains hidden. Unknown. Emitting no visible energy yet apparently strong enough to keep galaxies in clusters from busting free like wild horses, it's everywhere in vast quantities. What is the stuff -
axions,
WIMPS
,
gravitinos,
Kaluza Klein particles
?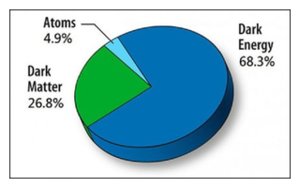 It's estimated that 27% of all the matter in the universe is invisible, while everything from PB&J sandwiches to quasars accounts for just 4.9%.
But a new theory of gravity proposed by theoretical physicist
Erik Verlinde
of the University of Amsterdam found out a way to dispense with the pesky stuff.
Unlike the traditional view of gravity as a fundamental force of nature, Verlinde sees it as an
emergent property
of space. Emergence is a process where nature builds something large using small, simple pieces such that the final creation exhibits properties that the smaller bits don't. Take a snowflake.
The complex symmetry of a snowflake begins when a water droplet freezes onto a tiny dust particle. As the growing flake falls, water vapor freezes onto this original crystal, naturally arranging itself into a hexagonal (six-sided) structure of great beauty.
The sensation of temperature is another emergent phenomenon, arising from the motion of molecules and atoms.
So too with gravity, which according to Verlinde, emerges from entropy. We all know about entropy and messy bedrooms, but it's a bit more subtle than that.
Entropy
is a measure of disorder in a system or put another way, the number of different microscopic states a system can be in. One of the coolest descriptions of entropy I've heard has to do with the heat our bodies radiate. As that energy dissipates in the air, it creates a more disordered state around us while at the same time decreasing our own personal entropy to ensure our survival. If we didn't get rid of body heat, we would eventually become disorganized (overheat!) and die.