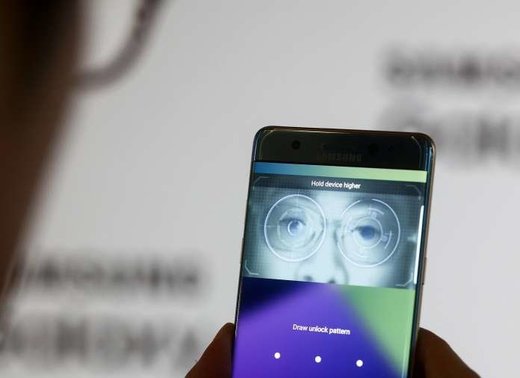 The ability to unlock electronic devices using eye-recognition technology, a feature that has been mostly confined to government agencies, is starting to reach the consumer market. On Tuesday Samsung unveiled the latest example: Its new smartphone, which scans users' irises so they can unlock it with a glance.
"It's a logical next step beyond fingerprint scanning," said Geoff Blaber of CCS Insight, a market analysis firm. And Samsung's move to include iris scanning in its upcoming Galaxy Note7 phone could open the door to put the biometric security technology in the hands of more people.
Samsung introduced the Samsung Galaxy Note7, its latest large screen phone, on Tuesday. It will go on sale in the U.S. on Aug. 19, with advance orders starting Wednesday. The 5.7-inch, high-definition screen phone-tablet, or phablet, is Samsung's latest competitor to similarly sized iPhones from chief rival Apple, which broke ground with fingerprint sensors in 2013 with the introduction of iTouch ID.
During a recent demonstration in San Francisco for The
Chronicle
, Samsung executive Justin Denison
held the phone about arms length at eye level and
unlocked it almost instantly
.
The phone's owner can also use the fingerprint scanner or a PIN code.
The biometric technology will work with Samsung's mobile security platform, called Knox, that allows the owner to create a special folder for work documents or apps that a child or spouse can't access.
"If you share the phone with a child or friend, you don't want them to get into everything," Denison said.