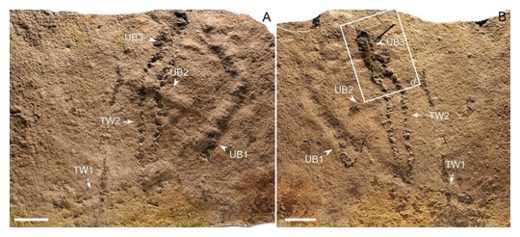 Neil Armstrong left the first footprint on the moon, on July 20, 1969. But what about Earth - when did animals first leave footprints here?
While we don't know exactly when animals first left tracks on our planet,
the oldest footprints ever found were left between 551 million and 541 million years ago during the
Ediacaran period
, a new study finds. That's hundreds of millions of years before dinosaurs started roaming Earth, about 245 million years ago. The new findings suggest animals evolved primitive "arms" and "legs" earlier than previously thought.
The odd-looking prehistoric trackways show two rows of imprints that resemble a series of repeated footprints, the researchers said. The scientists found the trackways in the Dengying Formation, a site in the Yangtze Gorges area of southern China.
The trackways' characteristics indicate that a bilaterian animal - that is, a creature with bilateral symmetry that has a head at one end, a back end at the other, and a symmetrical right and left side - made the tracks. This sea-dwelling animal had paired appendages that raised its body above the ocean floor, the footprints left behind by its multiple feet suggest.