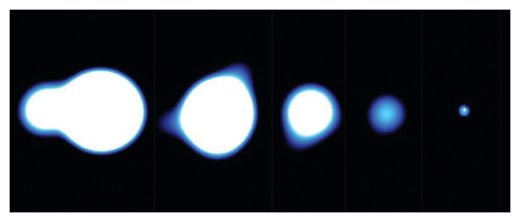 Scientists have detected two mysterious objects in space that dramatically flare into a burst of bright X-rays, and they're like nothing we've ever seen before.
These mysterious X-ray sources - which have been observed erupting in two different galaxies - qualify at their peak as what astronomers call
ultraluminous X-ray sources
(ULXs), but their unusual flaring behaviour doesn't match up with any known cosmic phenomena.
"We've never seen anything like this,"
says astronomer Jimmy Irwin
from the University of Alabama. "Astronomers have seen many different objects that flare up, but these may be examples of an entirely new phenomenon."
Irwin began looking for evidence of unusual X-ray activity after
scientists detected
extremely bright flaring near a galaxy called NGC 4697. Only two very brief bursts were observed at the time - one in 2003 and one in 2007 - and nobody knew what caused them.
To see if they could find evidence of similar flares, Irwin and his team sifted through archival data covering 70 galaxies collected by NASA's
Chandra
X-ray Observatory.
After examining several thousand X-ray sources in Chandra's records, the team identified two mysterious flaring objects that might be the same thing as what was detected near NGC 4697.
The first they found, located near the galaxy NGC 4636 - some 47 million light-years away from us - was captured during an outburst in February 2003.
The other object - near the galaxy NGC 5128 at a distance of some 14 million light-years from Earth - was seen to flare five times between 2007 and 2014.
While that makes it sound like these flares happen only rarely, that's not necessarily the case.