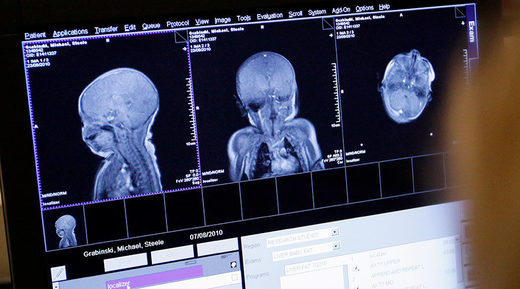 Scientists believe that there may be a correlation between brain growth visible on brain scans and the eventual development of autism spectrum disorder. These MRIs could potentially identify high-risk autism before the age of two.
Autism spectrum disorder (ASD) affects approximately 3.5 million Americans and is
most likely to be identified by the age of four.
However, a study
published
Wednesday in Nature, claims to have possibly discovered a formula to identify children with a high-risk for autism before they start to seriously lag in their social development.
ASD is a blanket term for a wide range of social impairments, from slightly to seriously disabling. As a result, children with autism often fall behind in developmental milestones related to social, communication and language skills.
The study claims that the brain scans revealed
"hyperexpansions" of the brain surface in the first 12 months were a common feature in babies who would go on to develop ASD
. The expansion was often followed by an increase in brain volume overgrowth that, according to the study, "was linked to the emergence and severity of autistic social deficits."