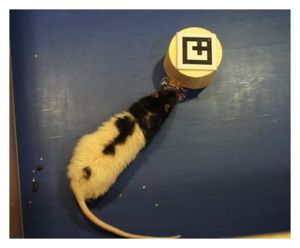 In the film
Avatar,
humans are linked to genetically engineered bodies so they can communicate more easily with the alien Na'vi. A group of computer scientists in the U.K. is making that a reality - - but with rats.
The team, based at University College London and the University of Barcelona, used a system of movement-tracking software, cameras and laptops, along with a virtual-reality headset. The set-up also included a rat in a pen.
To interact with the rat, a person puts on the VR headset and sees a virtual room. A camera with tracking software picks up the user's movements and duplicates them in a virtual room. Meanwhile another camera looks at the rat. In the virtual room, the (human) user sees another person, which is the avatar of the rat.
As the rat moves, so does its avatar. The tracking software picks up both the movement of the rat around its pen and where its face is pointing and duplicates that in the virtual environment. So the human user sees a person running around the room, with his or her face pointing in the same direction as the rat's is.