Siberian scientists discover a previous collision for the space rock, or near miss with the Sun.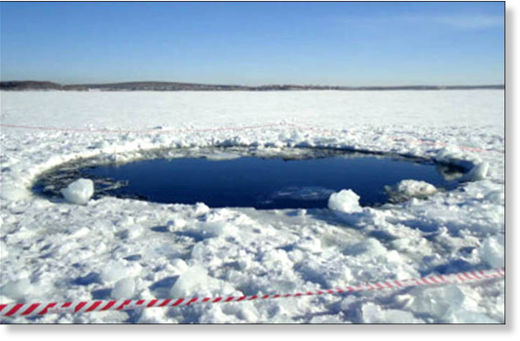 An operation to lift the main body of the Chelyabinsk meteorite began today in Lake Chebarkul. A specialist engineering company is clearing four metres 100 cubic metres of sludge to reach the extraterrestrial rock which four four metres beneath the floor of the lake. According to Chelyabinsk region search and rescue service, the approximate size of the meteorite is from 0.3 to 1 metre, and the weight is up to 600 kg.
Meanwhile scientists from the Institute of Geology and Mineralogy (IGM) in Novosibirsk have already reached an intriguing conclusion about the meteorite which produced a dramatic light show and it crashed to earth shattering windows in and around Chelyabinsk on 15 February this year.
While all of the fragments are composed of the same minerals, the structure and texture of some fragments show that the meteorite underwent an intensive melting process before it was subjected to extremely high temperatures on entering the Earth's atmosphere, say the specialists.