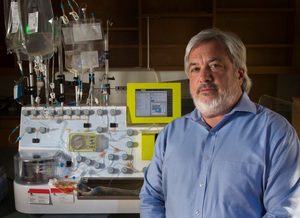 A Stanford research team has created a potentially powerful new way to fix damaged corneas — a major source of vision problems and blindness.
Millions of new eye cells are being grown in a Palo Alto lab, enlisting one of medicine's most important and promising new tools: refurbishing diseased and damaged tissue with healthy new cells.
"One of the exciting possibilities of this cellular approach is that one donor cornea," which contributes a few parent cells, "can generate enough cells to treat tens or hundreds of patients," said lead researcher Dr. Jeffrey Goldberg, professor and chairman of the Department of Ophthalmology at the Stanford University School of Medicine.
About 100,000 corneal transplants are done annually in the United States — but they require surgery with donated corneas from cadavers. The procedure fails nearly a third of the time, and there aren't enough high-quality donor corneas to go around.
Other scientists have been trying to grow full corneas from scratch, attaching a fragile film of cells to a membrane. That's a challenging bioengineering problem.