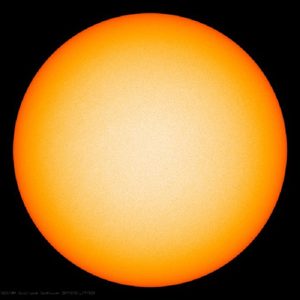 The Sun, now halfway through its life, might be slowing its magnetic activity, researchers say, which could lead to permanent changes in the sunspots and auroras we see.
The Sun has changed its figure, researchers say, and might keep it that way.
The structure of the Sun's surface, where sunspots live, appears to have changed markedly 23 years ago.
That's when solar magnetic activity might have started slowing down, Rachel Howe (University of Birmingham, UK, and Aarhaus University, Denmark) and collaborators speculate in paper to appear in the
Monthly Notices of the Royal Astronomical Society
(
full text here
). Such a structural change might help explain the
Sun's mysteriously weak cycles in recent years
.
The interior of the Sun pulsates as rhythmically as a human heart. But while the heart pulses at one fairly steady frequency, the Sun reverberates at thousands of different frequencies.
Pressure changes inside the Sun create these reverberations, just like pressure changes in the air create sound. The sound waves inside the Sun are outside the range of human hearing - they're too low frequency - but if we sped them up, we could hear them just like any other sound.
Some of these sound waves come from deep within the Sun, while others come from shallower layers. Since these sound waves can tell us about the structure of the solar interior, scientists measure them constantly using instruments like the Birmingham Solar-Oscillations Network.