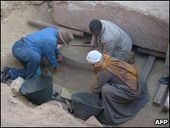 Egyptologists have discovered the remains of a mummy thought to belong to a queen who ruled 4,300 years ago, Egypt's antiquities chief has said.
The body of Queen Seshestet was found in a recently-discovered pyramid in Saqqara, Zahi Hawass announced.
She was mother of King Teti, founder of the Sixth Dynasty of pharaonic Egypt. Her name was not found but "all the signs indicate that she is Seshestet".