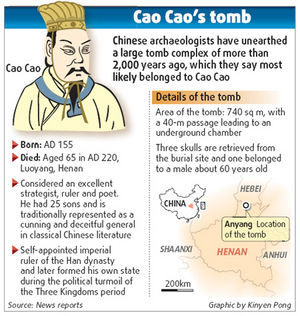 Xinhua -- The tomb of Cao Cao, a renowned warlord and politician in the third century, was unearthed in Anyang City of central China's Henan Province, archaeologists said Sunday.
Cao Cao (155-220 A.D.), who built the strongest and most prosperous state during the Three Kingdom period (208-280 A.D.), is remembered for his outstanding military and political talents.
Cao Cao is also known for his poems that reflected his strong character. Some of the poems are included in China's middle school textbooks.