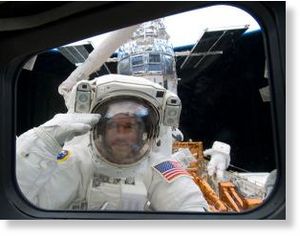 In an orbital first, astronauts opened up and installed new electronics on one of the Hubble Space Telescope's most important instruments on Saturday. But NASA must now wait for the results of a battery of tests to see if the ambitious repair job was a success.
The space shuttle Atlantis is currently orbiting Earth on an 11-day mission to refurbish Hubble and extend its life until at least 2014. This is the fifth and last mission to service the telescope, which NASA hopes will leave Hubble with its best vision yet.
After two days of spacewalks that ran over-schedule, astronauts John Grunsfeld and Andrew Feustel made short work of the repair of Hubble's Advanced Camera for Surveys (ACS), expected to be one of the most challenging tasks of the mission.