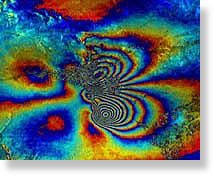 When a swarm of hundreds of small to moderate earthquakes erupted beneath California's Salton Sea in March, sending spasms rumbling across the desert floor, it set off more than just seismometers. It also raised the eyebrows of quite a few concerned scientists.
The reason: lurking underground, just a few kilometers to the northeast, lays a sleeping giant: the 160-kilometer-(100-mile) long southern segment of the notorious 1,300-kilometer- (800-mile) long San Andreas fault.
Scientists were concerned that the recent earthquake swarm at the Salton Sea's Bombay Beach could perhaps be the straw that broke the camel's back, triggering "the big one," a huge earthquake that could devastate Southern California.
The southern end of the San Andreas has remained silent, at least for now. But the earthquake swarm and more recent, widely felt earthquakes in the Los Angeles area have stirred renewed interest in earthquake research.