Brown dwarfs, objects that are less massive than stars but larger than planets, just got more elusive, based on a study of 233 nearby multiple-star systems by NASA's Hubble Space Telescope. Hubble found only two brown dwarfs as companions to normal stars. This means the so-called "brown dwarf desert" (the absence of brown dwarfs around solar-type stars) extends to the smallest stars in the universe.
Sergio Dieterich of Georgia State University in Atlanta and team leader of the study is reporting the results January 6 at the 213th meeting of the American Astronomical Society (AAS) in Long Beach, Calif.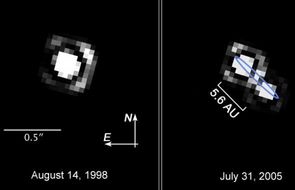 "We still did not find brown dwarfs around small red stars whose mass is only slightly above the hydrogen burning limit. Especially when we consider the fact that brown dwarfs binaries do exist, the fact that there are very few binaries whose components lie on different sides of the hydrogen burning limit is significant," says Dieterich.
The 233 stars surveyed are part of the RECONS (Research Consortium on Nearby Stars) survey meant to understand the nature of the sun's nearest stellar neighbors, both individually and as a population. The current primary goals are to discover and characterize "missing" members of the sample of stars within 32.6 light-years (10 parsecs) of Earth.