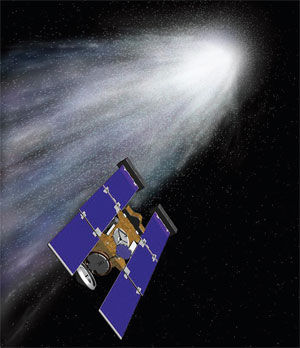 University cosmochemists Lawrence Grossman and Steven Simon have studied scores of meteorites during their careers, with a few Apollo lunar samples thrown in for good measure. But until 2006, they had never before examined a verified sample of a comet.
Much to their surprise, what they found looked a lot like components of some of the meteorites in their research collection.
"The thing that strikes me about the sample is how similar the mineral identities and the chemical compositions are to the things that we find in carbonaceous chondrites," said Grossman, Professor in Geophysical Sciences and the College.
These meteorites contain material that has been unaltered since the birth of the solar system 4.5 billion years ago. The cometary grains differ from carbonaceous chondrites in their complete lack of water-bearing minerals, however.