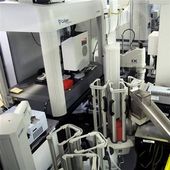 In a world first, researchers believe that a robot scientists has independently discovered new scientific knowledge.
The robot,
Adam
, which is a computer system that fully automates the scientific process,
hypothesized that certain genes in baker's yeast code for specific enzymes that catalyse biochemical reactions in yeast.
Adam then devised experiments to test these predictions, ran the experiments using laboratory robotics, interpreted the results and repeated the cycle.
Separate manual experiments have been used to confirm that the hypotheses were both novel and correct.
"Because biological organisms are so complex it is important that the details of biological experiments are recorded in great detail. This is difficult and irksome for human scientists, but easy for robot scientists," says Ross King, who led the research at Aberystwyth University.