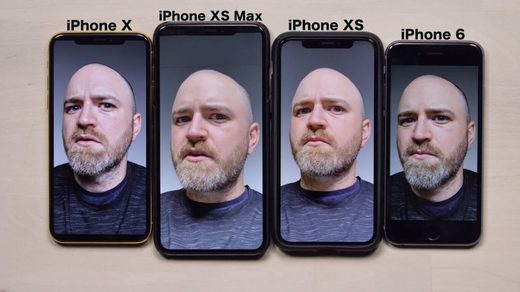 Selfie camera 'aggressively smooths' your skin, muting freckles and blemishes, but the feature cannot be turned off
WTF?! The iPhone XS and XS Max have been out for a little over a week now. Reviews of the new handsets have mostly been positive. However, users are beginning to notice something strange with the front-facing camera.
Lewis Hilsenteger of
Unbox Therapy
said he noticed that when he uses the front-facing selfie camera that the resulting image looks odd - like it has been touched up or airbrushed (video below). At first, he thought it might have been related to Apple's new "Smart HDR" technology. Unfortunately, after turning off Smart HDR in the settings the skin smoothing remained.
Several users on
Reddit
have noticed the same effect, and there does not appear to be any way to turn it off. Other phones and camera apps have a beauty mode built in, but users can either disable it or dial it all the way down using a slider. The
iPhone XS and XS Max
camera apps don't have any settings related to beautifying or skin smoothing to turn off or adjust.