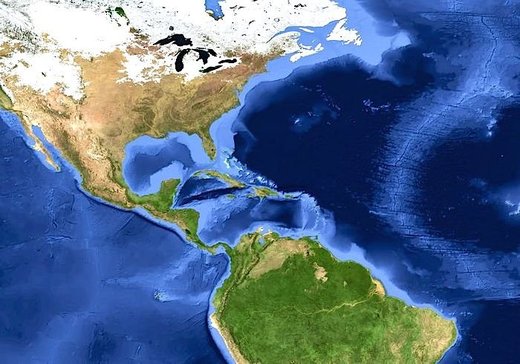 Long ago, one great ocean flowed between North and South America.
When the narrow
Isthmus of Panama
joined the continents about 3 million years ago, it also separated the Atlantic from the Pacific Ocean. If this took place millions of years earlier, as recently asserted by some, the
implications for both land and sea life
would be revolutionary. Aaron O'Dea, staff scientist at the Smithsonian Tropical Research Institute (STRI), and colleagues writing in
Science Advances
firmly
set the date at 2.8 million years ago.
"Recent scientific publications proposing the isolation of the two oceans between 23 to 6 million years ago rocked the generally held model of the continental connection to its foundations," said Jeremy Jackson, emeritus staff scientist at the Smithsonian. "O'Dea and his team set out
to reevaluate
in unprecedented, rigorous detail, all of the
available lines of evidence -- geologic, oceanographic, genetic and ecological data and the analyses that bear on the question of when the Isthmus formed."
"The timing of the connection between continents and the isolation of the Pacific and Atlantic oceans is important for so many reasons," O'Dea said. "Estimates of
rates of evolutionary change, models of global oceans, the origin of modern-day animals and plants of the Americas
and why Caribbean reefs became established all
depend upon knowing how and when the isthmus formed."