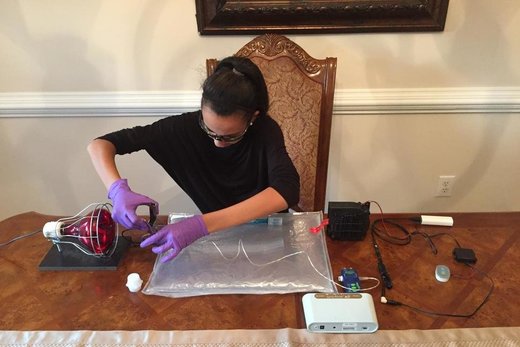 In June 2014, Justin Ross Harris, then 33,
left his 22-month-old son in the car
during the workday. After he was charged with murder, the Georgia father's story became one of the most notorious cases highlighting a parent's worst nightmare: forgetting to take a child out of the backseat.
Even if Harris is found innocent, he isn't the only parent who will have to live with knowing his son would still be alive had Harris been more cognizant that day. About 37 children die annually of heatstroke after being left in a car - and the number has already climbed to 35 this year, according to the advocacy group
KidsAndCars.org
.
A ninth-grader from Acworth, Georgia, wants to ensure that other children won't become part of these statistics.
Sara Makboul, an outgoing, 15-year-old finalist in this year's Discovery Education 3M Young Scientist Challenge, has created a system that could save an infant or child if he or she is left alone in a sweltering car.
Other people, including many young scientists, are trying to solve the same problem as Makboul, but they haven't been very successful, she tells U.S. News. "I realized after my research that people were not actually using [these scientists' inventions] and they weren't actually working."