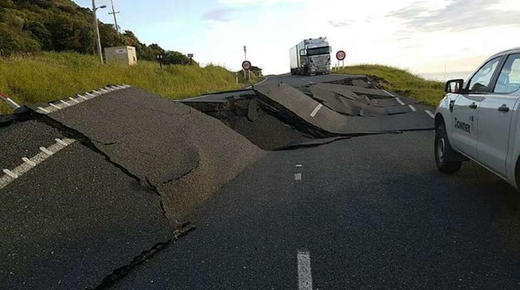 The powerful earthquake that struck New Zealand was unusual in that a big event on one fault may have immediately triggered a big event on a second fault, experts said on Monday.
An earthquake of magnitude 7.8 pummeled central New Zealand at 12.02 a.m., killing at least two people, damaging roads and buildings and setting off hundreds of strong aftershocks.
"When an earthquake occurs you are changing the stress field immediately, and if there was one fault that was pretty close to breaking, the energy from an earthquake can just tip it over the edge so that may have been what happened today," Adam Pascale, head of Australia's Seismology Research Centre, told Reuters.
New Zealand's GNS Science agency principal scientist Kelvin Barrowman told Radio New Zealand: "
It seems like the earthquake was more like two earthquakes, but very closely spaced in time."
What remains unknown, and disconcerting, is whether the high number of aftershocks were just that, or "foreshocks" preceding another large quake.