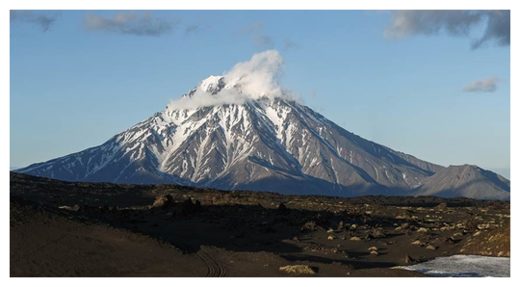 Seismic rumbles beneath a long-dormant volcano on Russia's Kamchatka Peninsula could herald an imminent eruption, a team of scientists says. But other researchers say that the observed seismic activity could be related to already erupting volcanoes in the region.
Fewer than 10,500 people live within 100 kilometers of the volcano, called Bolshaya Udina, making a catastrophic eruption that would affect large numbers of people extremely unlikely. When the volcano last erupted is unknown, but it hasn't
for at least 10,000 years
, so many volcanologists consider it no longer active, or "extinct." But Kamchatka is home to numerous active volcanoes, including nearby Bezymianny, which most recently erupted March 15.
Scientists had detected an apparent increase in seismic activity in the vicinity of Bolshaya Udina beginning in late 2017. So researchers, led by geophysicist Ivan Koulakov of the A.A. Trofimuk Institute of Petroleum Geology and Geophysics in Novosibirsk, Russia, installed four temporary seismic stations near the volcano. From May 5 to July 13, 2018, the stations recorded a swarm of 559 earthquakes.
Overall, from October 2017 through February 2019, researchers detected about 2,400 seismic events, the strongest of which was a magnitude 4.3 earthquake in February. Previous to that 16-month period, scientists detected only about 100 weak seismic events in the region from 1999 to 2017.