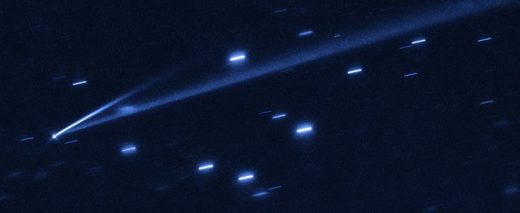 In space, no one
can hear
an asteroid scream. But astronomers just used the Hubble telescope to see one destroying itself.
A 2.5-mile-wide asteroid called 6478 Gault was
first discovered in 1988
, and it seemed like many of the other 800,000 known space rocks.
But in January, astronomers saw something strange in survey telescope images:
Gault had become "active" and sprouted a big, bright tail - much
like a comet
's - that stretched more than 500,000 miles long. A dimmer second tail was found several weeks later.
Some space rocks that initially look like asteroids are later found to be comets when they pass close to the sun. The boost in solar energy can warm up ice and other frozen compounds hidden under layers of dust, turning those materials into gases and leading the rock to spew out comet debris to form a long, glowing tail.
Gault didn't seem to fit the bill, though, since it lurks about 214 million miles away from the sun in a fairly circular orbit between
Mars
and
Jupiter
. In other words,
it never swung close to the sun.
So scientists wondered if another space rock had collided with Gault, splashing its dusty guts all over space.