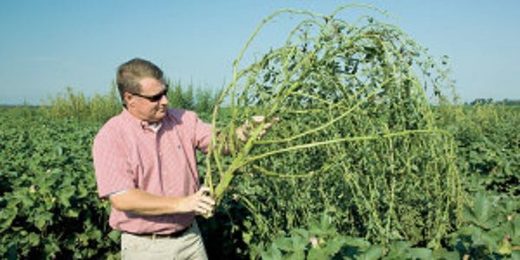 When we human beings become too self-destructive for our own well-bring and that of our Earth, sometimes nature takes control and does what we in our greed and stupidity refuse to do. The refusal of Governments around the world - with notable exceptions such as the GMO-free Russian Federation - to order an immediate global ban on planting of Genetically Manipulated Organisms, GMO, including for corn, for soybeans, for cotton to name just a few, along with an immediate ban on paired weed-killers such as Monsanto's Roundup, is stupidity pure. The response of nature, however, may sound the death knell for American farmers' use of GMO seeds more effectively than any labeling or WHO carcinogen warning. Superweeds are literally choking GMO plants to death across the US Midwest farm belt and that should send a very real signal that
nature abhors GMOs and their toxic weed-killing chemicals.
Since President George Herbert Walker Bush met with the directors of Monsanto in the White House in a closed-door 1992 meeting, American agriculture and the American people have been the experimental guinea pig for testing the effects of planting of GMO crops paired to specific toxic weed-killers.
G.H.W. Bush after the Monsanto powwow ordered
US Government agencies to treat the untested GMO seeds and their paired weed-killer chemicals as "substantially equivalent" to non-GMO plants and not requiring extra government testing, one of the more lunatic decisions of a President who seems to have had a morbid affinity for lunatic decisions.