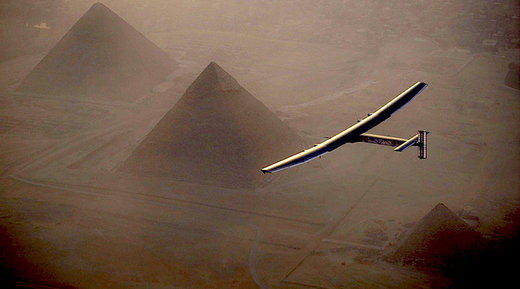 An airplane which solely relies on solar energy has taken off on the last leg of its round-the-world-trip.
It is expected to reach its final destination in some 48 hours, which would make it the first solar-powered aircraft to circle the globe. On Sunday at 1:30am local time, the one-of-a-kind plane took off from Cairo and is now heading towards Abu Dhabi - the city from which it started its long journey last year. It is expected to reach the city within the next 48 hours.
Last week, the aircraft made a landing in Egypt after a flight from Seville, Spain. The pilots were forced to postpone the following takeoff from Cairo to the UAE due to extreme heat in Saudi Arabia. On the Solar Impulse blog, the Mission Control Center team said they
"
identified a weather window that could allow us to overcome the challenging high temperatures across Saudi Arabia and hopefully land in Abu Dhabi after 48 hours."
"We want to share with you the suspense of an attempted takeoff for this last leg of the round-the-world adventure. If we manage to get Si2 airborne, this will be Solar Impulse's last flight, so come with us!"