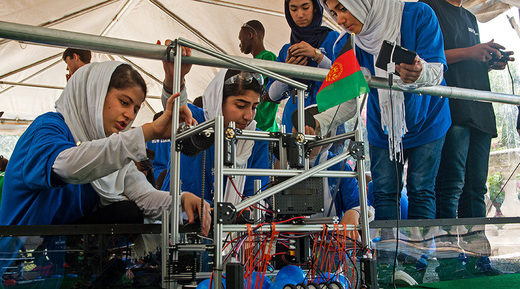 An all-girl team from Afghanistan was awarded a silver medal for "courageous achievement" at an international robotics competition in Washington, DC. They only made the competition after President Donald Trump personally intervened to get them visas.
The Afghan team made headlines earlier this month when their visa application was turned down by the US embassy in Kabul, prompting critics to blame Trump's temporary travel ban, which affects applicants from Iran, Libya, Syria, Somalia, Sudan and Yemen, all countries with a Muslim majority population. Afghanistan, however, is not on that list.
Trump himself reportedly urged the Department of Homeland Security to find a way for their visit to happen, and the team was able to enter the US on
"parole."
At the First Global robotics competition, the Afghan girls competed against 162 other teams from 157 countries, including a team of Syrian refugees.
Their robot, named Better Idea of Afghan Girls, was able to sort orange and blue balls by color and put them in the correct places, simulating water purification.