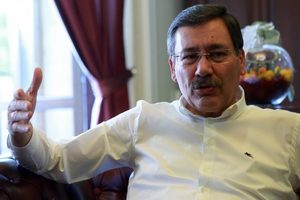 Ankara's outspoken mayor on Tuesday warned that outside forces could be using sophisticated technology to try to trigger a manmade earthquake in a deliberate bid to harm Turkey's fragile economy.
Melih Gokcek, who has been mayor of the Turkish capital since 1994, made the outlandish claims on Twitter where he regularly updates his more than 3.7 million followers, often writing in capital letters.
His comments were made after two quakes hit the western Canakkale province on Monday and Tuesday morning, measuring 5.3 and 5.2 magnitude respectively, the Turkish Disaster and Emergency Management Authority (AFAD) said.
In these tweets, Gokcek shared a video which claimed there were tools for causing manmade quakes, and he called all submarines and ships with large equipment to be taken under control of the authorities.