Scientists at the UNIGE have shown that the response of the retina to light depends not only on the intensity of the light perceived by the eye,
but also on its temporal shape and the order in which the colours are organized.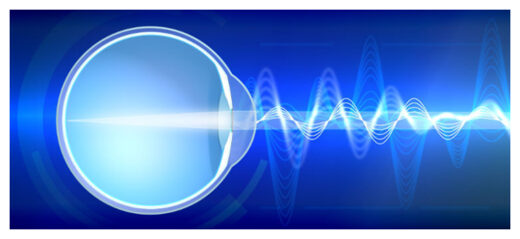 Vision is a complex process that has been successfully deciphered by many disciplines -physics, biochemistry, physiology, neurology, etc.-: The retina captures light, the optic nerve transmits electrical impulses to the brain, which ultimately generates the perception of an image. Although this process takes some time, recent studies have shown that the first stage of vision, the perception of light itself, is extremely fast. But the analysis of this decisive step was carried out on molecules in solution in the laboratory.
Scientists from the University of Geneva (UNIGE), in collaboration with EPFL and the University Hospitals of Geneva (HUG), Switzerland, reproduced the experiment on mice, in order to observe the processing of light by a living organism in all its complexity. This non-invasive study shows that light energy alone does not define the response of the retina. Its shape -short or long- also has an impact on the signal sent to the brain to form an image. This discovery, published in the journal
Science Advances
, opens up a new field of research into vision, diagnostics and possibly new curative possibilities.
The cellular mechanism of vision has been successfully studied thanks to the collaboration of several disciplines. "In the eye, the first stage of vision is based on a small molecule - the retinal - which, on contact with light, changes shape," explains Geoffrey Gaulier, researcher at the Applied Physics Department of the UNIGE Faculty of Science and first author of the study. "When the retinal alters its geometric form, it triggers a complex mechanism that will result in a nerve impulse generated in the optic nerve."