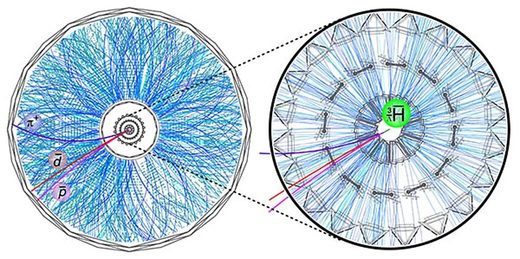 Inner vertex components of the STAR detector at the Relativistic Heavy Ion Collider (righthand view) allow scientists to trace tracks from triplets of decay particles picked up in the detector's outer regions (left) to their origin in a rare "antihypertriton" particle that decays just outside the collision zone. Measurements of the momentum and known mass of the decay products (a pi+ meson, antiproton, and antideuteron) can then be used to calculate the mass and binding energy of the parent particle. Doing the same for the hypertriton (which decays into different "daughter" particles) allows precision comparisons of these matter and antimatter varieties
.
New results from precision particle detectors at the Relativistic Heavy Ion Collider (RHIC) offer a fresh glimpse of the particle interactions that take place in the cores of neutron stars and give nuclear physicists a new way to search for violations of fundamental symmetries in the universe. The results, just published in
Nature Physics
, could only be obtained at a powerful ion collider such as RHIC, a U.S. Department of Energy (DOE) Office of Science user facility for nuclear physics research at DOE's Brookhaven National Laboratory.
The precision measurements reveal that the binding energy holding together the components of the simplest "strange-matter" nucleus, known as a "hypertriton," is greater than obtained by previous, less-precise experiments. The new value could have important astrophysical implications for understanding the properties of neutron stars, where the presence of particles containing so-called "strange" quarks is predicted to be common.