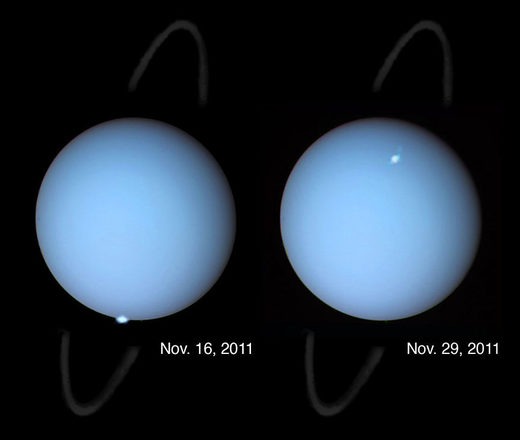 Earth doesn't have a corner on auroras. Venus, Mars, Jupiter, Saturn, Uranus and Neptune have their own distinctive versions. Jupiter's are massive and powerful; Martian auroras patchy and weak.
Auroras are caused by streams of charged particles like electrons that originate with solar winds and in the case of Jupiter, volcanic gases spewed by the moon Io. Whether solar particles or volcanic sulfur, the material gets caught in powerful magnetic fields surrounding a planet and channeled into the upper atmosphere. There, the particles interact with atmospheric gases such as oxygen or nitrogen and spectacular bursts of light result. With Jupiter, Saturn and Uranus excited hydrogen is responsible for the show.
Auroras on Earth, Jupiter and Saturn have been well-studied but not so on the ice-giant planet Uranus. In 2011, the Hubble Space Telescope took the first-ever image of the auroras on Uranus. Then in 2012 and 2014 a team from the
Paris Observatory
took a second look at the auroras in ultraviolet light using the
Space Telescope Imaging Spectrograph
(STIS) installed on Hubble.