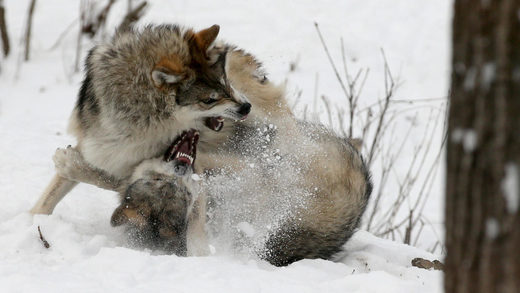 It seems that grey wolves are yet more victims of the strange and poorly-understood
toxoplasma gondii
parasite — but in their case, the effects of this brain worm seem to be driving the wolves toward leadership roles.
A
new study
in the journal
Communications Biology
details how
an analysis of 27 years of data found that grey wolves in Yellowstone National Park that were infected with the
T. gondii
parasite were, like most animals who get the associated toxoplasmosis disease, driven toward risk-taking behaviors
.
While that often plays out poorly in other animals — including humans, who can
catch toxoplasmosis
from cat crap,
some scientists say
— the infected canids surveyed by the Yellowstone Wolf Project for the study appeared to be
up to
46 times more likely
to become pack leaders in the wake of infection. This may be because
T. gondii
has been shown
in other mammals
— including, in
humans in particular
— to increase testosterone levels
, the research notes.