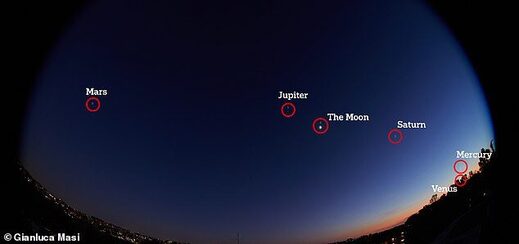 Stargazers have been capturing some spectacular images of a rare astronomical event that means every planet in the solar system is visible in the night sky at the same time.
Mercury
, Venus,
Mars
,
Jupiter
and Saturn can all be seen with the naked eye, while Uranus and Neptune are possible to spot with binoculars or a telescope.
Astronomer Dr Gianluca Masi shared a picture he took of the five planets that could be seen with the naked eye, while other skywatchers across the world also captured images of the 'planet parade'. He took it from the roof of a building in Rome, Italy last night, using a camera with special lenses.