The Western New Mexico Correctional Facility sits in high-desert country about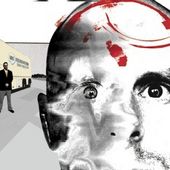 seventy miles west of Albuquerque. Grants, a former uranium boomtown that depends heavily on prison work, is a few miles down the road. There's a glassed-in room at the top of the prison tower, with louvred windows and, on the ceiling, a big crank that operates a searchlight. In a box on the floor are some tear-gas shells that can be fired down into the yard should there be a riot. Below is the prison complex - a series of low six-sided buildings, divided by high hurricane fences topped with razor wire that glitters fiercely in the desert sun. To the east is the snow-covered peak of Mt. Taylor, the highest in the region; to the west, the Zuni Mountains are visible in the blue distance.
One bright morning last April, Dr. Kent Kiehl strode across the parking lot to the entrance, saying, "I guarantee that by the time we reach the gate the entire inmate population will know I'm here." Kiehl - the Doc, as the inmates call him - was dressed in a blue blazer and a yellow tie. He is tall, broad-shouldered, and barrel-chested, with neat brown hair and small ears; he looks more like a college football player, which was his first ambition, than like a cognitive neuroscientist. But when he speaks, in an unexpectedly high-pitched voice, he becomes that know-it-all kid in school who intimidated you with his combination of superior knowledge and bluster.
At thirty-eight, Kiehl is one of the world's leading younger investigators in psychopathy, the condition of moral emptiness that affects between fifteen to twenty-five per cent of the North American prison population, and is believed by some psychologists to exist in one per cent of the general adult male population. (Female psychopaths are thought to be much rarer.) Psychopaths don't exhibit the manias, hysterias, and neuroses that are present in other types of mental illness. Their main defect, what psychologists call "severe emotional detachment" - a total lack of empathy and remorse - is concealed, and harder to describe than the symptoms of schizophrenia or bipolar disorder. This absence of easily readable signs has led to debate among mental-health practitioners about what qualifies as psychopathy and how to diagnose it. Psychopathy isn't identified as a disorder in the
Diagnostic and Statistical Manual of Mental Disorders
, the American Psychiatric Association's canon; instead, a more general term, "antisocial personality disorder," known as A.P.D., covers the condition.