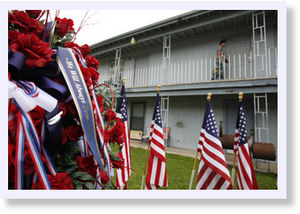 The facts as presented by the Army and the media reference the shooting at Fort Hood just don't compute. While I routinely dismiss any "facts" disseminated by the Army and the state's propaganda wing, sometimes referred to as the mainstream media (MSM), there are some glaring inconsistencies in what has been reported about this tragedy.
First is the report the perpetrator was dead and then hours later the revelation that he was still alive. Exactly how long does it take to determine if a person is dead or alive? Could it be no one knew whom the shooter or shooters were and a story had to be concocted for public consumption? What happened to the
two other "suspects"
that were detained? What did they do to
qualify as suspects
and more importantly, what information surfaced that led to their release? One of the suspects reportedly stated he "was with the shooter."