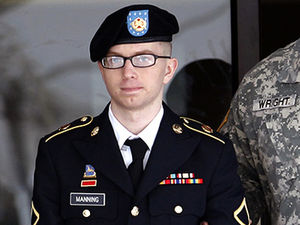 Bradley Manning is expected to testify in a pretrial hearing that he has been punished illegally by being locked in solitary confinement. The whistleblower hopes that his inhumane punishment is grounds for having all charges against him dismissed.
Manning, who is accused of sending classified information to WikiLeaks, will testify in a pretrial hearing in Fort Meade, Maryland.
"Until now we've only heard from Bradley through his family and lawyers, so it's going to be a real insight into his personality to hear him speak for himself for the first time,
"
said Jeff Paterson of the Bradley Manning Support Network.
Manning's lawyers will maintain that his treatment in a small cell at the Marine Corps brig in Quantico, Virginia was illegal and unnecessarily severe. If pretrial punishment is particularly flagrant, military judges have the right to dismiss all charges.
Manning, a 24-year-old Army private and intelligence analyst, was allegedly involved in the largest security breach in US history and was charged with 22 crimes, including violating the Espionage Act and aiding the enemy. He allegedly accessed 250,000 US diplomatic cables, 500,000 army reports, and videos of the 2007 Baghdad airstrike and the 2009 Granai airstrike, and sending them to the whistleblower website WikiLeaks for publication in 2010. He is the only suspect arrested for his involvement in the security leak.