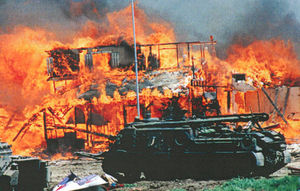 Comment: The following article was written 6 years after the massacre of 76 men women and children by the Federal government. And still today, 20 years later, no government agent or employee has seen justice.


On April 19, 1993, 26 children were killed at the Branch Davidian compound near Waco, Texas. Six years and one day later, 12 children were killed at Columbine High School. The Columbine murderers are dead, and the man who illegally supplied them a gun is facing a lengthy prison sentence. But those responsible for the deaths of the children at Waco remain at large.
If, as President Clinton and Attorney General Janet Reno claim, the federal government bears no responsibility for the deaths of the children at Waco, why has the federal government worked so hard, and with so much success until recently, to falsify the facts about what happened there?
The lies about how the fire started commenced while the building was still in flames. A Justice Department spokesman in Washington claimed that an FBI sniper using a rifle scope had seen a male Branch Davidian, wearing black Ninja-style clothes and a black hood, pour liquid on the floor behind a piano and then ignite it. The day after the fire, Jeffrey Jamar, the FBI's special agent in charge at Waco, asserted that the agent saw a person "get down with cupped hands and then there was a flash of fire."