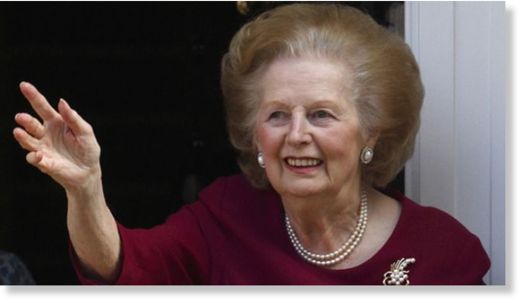 Hours after the death of former British prime minister Margaret Thatcher, the history books are being re-written and the beatification of the Iron Lady is well underway.
Current British premier David Cameron praised Lady Thatcher for having "saved Britain" and for making the has-been colonial power "great again".
Tributes poured forth from French and German leaders, Francoise Hollande and Angela Merkel, while US President Barack Obama said America had lost a "special friend".
Former American secretary of state Henry Kissinger and former Russian leader Mikhail Gorbachev also lamented the loss of "an historic world figure". Polish ex-president Lech Walesa hailed Margaret Thatcher for having brought down the Soviet Union and Communism.
Such fulsome praise may be expected coming from so many war criminals. But it is instructive of how history is written by the victors and criminals in high office. Obama, Cameron, Hollande and Merkel should all be arraigned and prosecuted for war crimes in Iran, Iraq, Afghanistan, Libya, Syria, Pakistan, Somalia and Mali, among other places. Kissinger has long evaded justice for over four decades for his role in the US genocide in Southeast Asia during the so-called Vietnam War in which over three million people were obliterated in Vietnam, Laos and Cambodia.
The British state is to give Thatcher, who died this week aged 87, a full military-honours funeral. The praise, eulogies, wreaths and ceremonies are all self-indictments of association with one of the most ruthless and criminal political figures in modern times.