The Doomed and the Blind
As politicians sit squabbling in Washington, deliberating and deciding, an asteroid 4 kilometers across is thundering through space at 15 miles per second. It was forged in a galactic maelstrom millions of years ago from molten metal, and now it tumbles through space with malevolent indifference. People sit unaware of an impending disaster, carrying on their daily activities while extinction encroaches. It won't just be the extinction of a few species, or a few million people, but all life will be wiped off the face of the earth within hours. Our planet will become a barren waste for millions of years, void of vibrant life and wonder.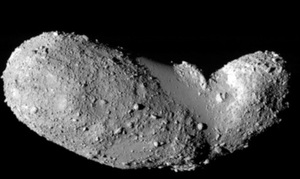 Itokawa asteroid
Is an awful scenario like this really plausible? The answer is yes. The threat is very real and the evidence is in the scars our earth bears on the surface, the massive craters on the moon, and the giant wounds on Mars.
You would expect that something so catastrophic and horrible for our species and planet would demand attention from lawmakers;
wrong
. Although our government is well-informed by agencies like NASA, it has neglected to properly fund Near Earth Object (NEO) programs, and it could lead to our destruction. An asteroid impact is a natural disaster we can actually prevent, and if our representatives don't take steps to improve our warning systems, we will suffer the same fate as the dinosaurs.