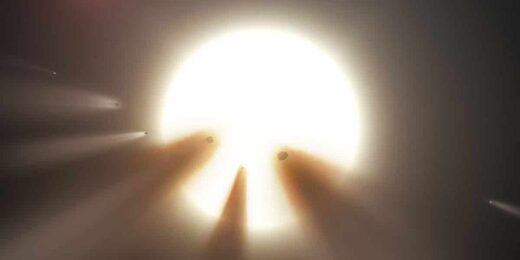 The longest-studied comets in our solar system have inspired ancient myths, religious fervor and modern scientific controversies. Now, the discovery of 88 asteroids and meteoroids
orbitally aligned
with one of them, Comet Encke, suggests that they all formed from the relatively recent breakup of an even bigger, icy comet. The findings are welcomed by those who believe Comet Encke and the other products of this astronomical event are responsible for many of Earth's most violent and consequential impacts over the last 20,000 years.
Earlier Evidence
Comet Encke was
first observed
in 1786 and later identified as the source of numerous annual meteor showers. Known collectively as the Taurids, these showers light up the skies of both the northern and southern hemispheres as Earth passes through a stream of debris created by the comet. (This year, look to the stars throughout November for a glimpse of your own.) In the 1980s, however, astronomer William Napier and astrophysicist Victor Clube
suggested that
objects larger than your average "shooting star" had arrived from a similar source as the comet.