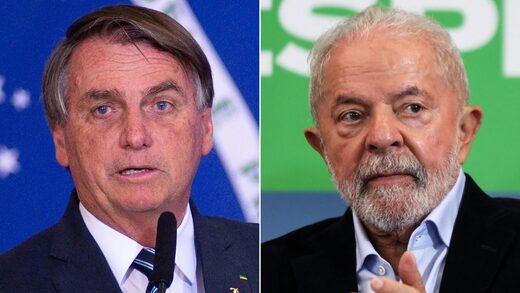 Former president Luiz Inácio Lula da Silva (known as "Lula") may have come out ahead with 48.4 percent of the vote in the first round of Brazil's presidential election on Sunday, but the winner of the night might still be incumbent Jair Bolsonaro. With 43.2 percent of the ballot, the far-right leader
comfortably beat pre-election polls
and is now on course to face off with his leftist rival in a nail-biting run-off that few observers saw coming.
In the final run-up to the election, and after two months of tense campaigning in
a deeply polarized Brazil
, Lula's supporters were swept up with enthusiasm after
poll after poll predicted he would easily win the presidency
. Their confidence grew even further after
a last-minute survey - published on the eve of the vote - indicated that the former president could win the first-round vote outright
.
But when the polls closed at 5pm local time, and the Brazilian left gathered
en masse
to watch a ballot count they were confident would sway sharply in Lula's favour, a tense wait began.
For three long hours, the Superior Electoral Court's
website
showed
Bolsonaro
in the lead.
It was not until 8pm, and after 70 percent of the ballots had been counted, that Lula began to overtake him.
At around 10pm, the ballots issued a clear verdict: The two candidates would meet in an October 30 run-off - and the race is expected to be as tight as it is unpredictable.

Comment: Expected, by who?? Brazilian corporatist media polls for Brazilian Senate and House results were off by up to 40%, so why do they 'expect' it to be 'tight' between Lula and Bolsonaro? They SHOULD be expecting a landslide victory for Bolsonaro, based on his party's Senate/House/gubernatorial landslide victories. But they're not. Hmmm, this also reminds us of the 'enigma' of how the GOP increased its vote share in all races in the 2020 elections, except - allegedly - the presidential one.