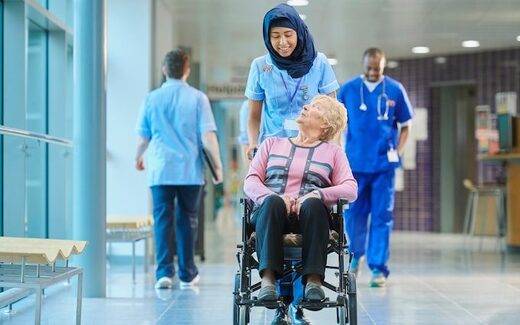 Trans women will be banned from
female hospital wards
under the Health Secretary's plans to restore "common sense" to the NHS.
On Tuesday, Steve Barclay will announce proposals to push back against
"wokery" in the health service
that has led to women's rights being increasingly sidelined.
The changes would give men and women the right to be cared for on wards only shared by people of their own biological sex, and to have intimate care provided by those
of the same sex
.
Mr Barclay said the plan would mean the return of "a common-sense approach to sex and equality", ensuring that women's dignity was protected and their voices heard.
The proposals follow concerns from patients and staff about biological men being allowed on to women's hospital wards. In 2021,
NHS guidance
said trans patients could be placed on single-sex wards on the basis of the gender with which they identified.
Mr Barclay will also announce the return of "sex-specific" language to the NHS after references to women were expunged from advice on the menopause and diseases such as cervical and
ovarian cancer
.
On Monday, women's campaign groups hailed the changes as "fantastic news" and a return to "reality-based thinking".
Mr Barclay has become frustrated by "ideological dogma" in the health service, where terms such as "breastfeeding" have been replaced by "
chestfeeding
" and guidance refers to pregnant "people" rather than women.
He will use his speech to
the Conservative Party conference in Manchester
on Tuesday to announce a consultation on changes to the NHS constitution, which sets out patients' rights, in order to strengthen protection for women.
Under the changes,
trans patients
would be housed in separate accommodation, which could mean their own rooms.
Earlier this year, a report
by the Policy Exchange think tank
warned that NHS trusts were compromising women's rights by providing same-sex intimate care based not on a staff member's biological sex but their self-declared gender identity.
On Monday, Mr Barclay told
The Telegraph
: "We need a common-sense approach to sex and equality issues in the NHS. That is why I am announcing proposals for clearer rights for patients.
"
And I can confirm that sex-specific language has now been fully restored to online health advice pages about cervical and ovarian cancer and the menopause. It is vital that women's voices are heard in the NHS and the privacy, dignity and safety of all patients are protected
."
A source close to the Health Secretary said: "
The Secretary of State is fed up with this agenda and the damage it's causing, language like 'chestfeeding', talking about
pregnant 'people'
rather than women. It exasperates the vast majority of people, and he is determined to take action on it.
"He is concerned that women's voices should be heard on healthcare and that too often wokery and ideological dogma is getting in the way of this".
Maya Forstater
, the executive director of Sex Matters, a campaign group, said: "This is fantastic news - the return of common-sense and reality-based thinking about biological sex within the NHS.
"
Staff trans activists have been wreaking havoc across the health sector, from the removal of sex-based language in women's health to insisting that the identity of NHS workers trumps patients' rights to single-sex care.
"Undoing the damage will take years of concerted effort but will bring huge benefits for all patients and staff, most especially women."
Dr Louise Irvine, who co-chairs the Clinical Advisory Network on Sex and Gender, welcomed the changes, saying: "Biological sex does matter when it comes to healthcare.
"It doesn't mean trans people should not be treated with respect and have their health care needs met too, but there should be a recognition of the importance of biological sex to ensure women get the care they need.
"Women have particular reasons for wanting a sex-specific service because of the sense many have that they are vulnerable when men are present, or are being treated by male doctors.
They should have the right to specify these things for the sake of privacy and a sense of safety.
"
Earlier this year, Sir Keir Starmer, the Labour leader, said his party
would back single-sex wards
based on biological sex.
On Monday,
Dame Priti Patel, a former home secretary
, said the Tories needed to do more to take on culture wars, telling a conference fringe meeting: "
This whole 'political correction', this culture, that has now taken over not just in our schools but public bodies, public departments in Whitehall as well, this nonsense and these distractions are created by the Left.
"The reality is we need to absolutely not allow this ideology, the 'political correction' that we see across our institutions, to dominate while we're doing the heavy lifting.
"We have vacated the pitch on this and we do need to go back to our institutions, back to our schools, and give for example, in our schools, the parents the right to say no."
Mr Barclay will also use Tuesday's speech to announce
a major expansion of the NHS workforce
, with three new medical schools. The schools, at the University of Worcester, the University of Chester and Brunel University in Uxbridge, will mean more than 200 extra undergraduate places from September 2024.
He will also announce a new £30 million fund to boost adoption of new technology across the NHS.
It comes as junior doctors and consultants take part in the
most crippling NHS strikes yet
, amid warnings that services have come to a "near standstill".
On Tuesday, the British Medical Association will
target the Tory conference
with a rally of protesting doctors. Consultants are demanding a pay increase of at least 11 per cent, with junior doctors calling for a rise of more than a third.