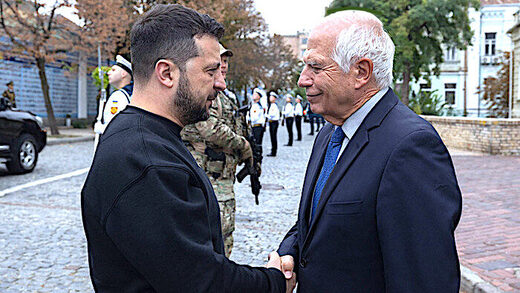 EU foreign policy chief Josep Borrell has refused to give an opinion on whether Ukraine should hold presidential and parliamentary elections in 2024, speaking during his visit to Kiev.
He told journalists in the Ukrainian capital on Monday:
"About elections in Ukraine, it's not my business. I'm in charge of foreign relations affairs of the EU, not internal politics of any member state, much less of Ukraine."
Holding elections is prohibited in Ukraine during a time of martial law, which is in now in place due to the conflict with Russia.
However,
Western politicians
including Tiny Kox, head of the Council of Europe's Parliamentary Assembly, a
nd several US senators, have been pressuring Kiev to organize both presidential and parliamentary votes next year.
Republican Senator Lindsey Graham claimed in August:
"Elections would be not only an act of defiance against the Russian invasion, but an embrace of democracy and freedom."
The Washington Post
reported last week that Ukrainian officials have been resisting such calls from the US and EU. Sources, who talked to the paper, said holding a nationwide ballot in a country engaged in a major armed conflict "is virtually impossible and also ill-advised."
In June, Ukrainian President Vladimir Zelensky stated that an election could only take place after the fighting with Moscow ends.
However, he changed his mind
in late August, saying that the vote could happen during the conflict
if the relevant laws are changed.
Zelensky assured Portuguese broadcaster RTP that he will run for re-election
if an election does take place, and would not abandon his country in a difficult situation.
The Ukrainian president's wife, Elena Zelenskaya,
told CBS in late September:
"My husband's participation in the election would depend [on] whether our society would need him as a president...if he will feel that Ukrainian society would no longer wish him to be the president, he will probably not run."
Zelenskaya added that she would support her spouse, no matter what he decides.