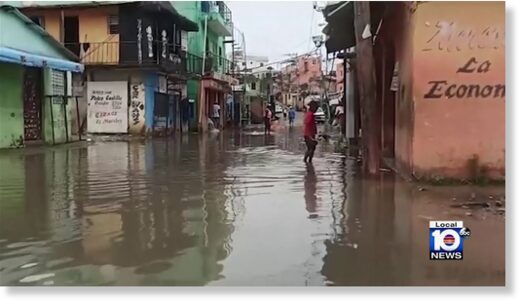 T​ropical Storm Franklin dumped torrential rain on the Dominican Republic, where at least one person died and two others were reported missing.
The Civil Defense said a man identified as Carlos Marino Martínez died in the city of San Cristobal after being swept away by floodwaters. The agency initially said he was one of its volunteers, but later corrected the information saying it misidentified a uniform he was wearing. They did not provide further details. Two women in that city also were injured following a landslide, officials said.
"Franklin is now located north of the Dominican Republic, but outer bands from the system could bring some localized additional heavy rain Thursday," said weather.com senior meteorologist Chris Dolce. "That might cause isolated flooding in areas that are vulnerable because of Wednesday's soaking."
More than 350 people were huddled in shelters in the Dominican Republic, where emergency operations officials said they were looking for a 54-year-old man with mental health problems who went missing after he jumped into a creek late Tuesday. Meanwhile, José Luis Cabrera with the Civil Defense agency told Noticias SIN that a teenage boy is missing after a river swept him away on Wednesday.
"Six of them jumped in, and one of them didn't make it back," he said.
Another 280 people were evacuated from their homes to safer ground, with at least six communities cut off by heavy rains, officials said.
The storm also downed several trees and at least two light posts, with dozens of homes affected by floods that turned streets into rushing rivers.
Authorities said the roof of one home in San Cristobal collapsed, as did walls of various buildings around the country.
"There's a lot of damage," Méndez said.
The U.N.'s World Food Program warned Wednesday that some 125,000 people in the Dominican Republic are living in areas that "are extremely vulnerable to landslides and flash floods because they live in poor, overcrowded settlements near rivers, creeks, and lagoons."
Hércules Urbáez, a 41-year-old father of six who lives in the city of Barahona, where Franklin made landfall, said he and his family went to his mother's house for safety.
"People have refused to leave," he said.
Rivers swelled across the Dominican Republic, with one in the southern coastal city of Barahona lapping at shacks made of tin where one resident used plastic buckets to raise his mattress above his home's dirt floor.
In the capital of Santo Domingo, José Abott, a 34-year-old graphic designer, monitored the water level of a river near his home via a WhatsApp group: "It always fills with water."
In the Caribbean, officials were most concerned about Franklin's impact in Haiti, which is prone to catastrophic flooding given the country's severe erosion.
"Haiti is among the most vulnerable countries in the world when it comes to the effects of extreme weather," said Jean-Martin Bauer, the World Food Program's director for Haiti. In June, a powerful thunderstorm that unleashed heavy rains left more than 40 people dead across the country.
Prime Minister Ariel Henry had urged Haitians on Tuesday to stock up on water, food and medication.
More than 200,000 people in Haiti have been displaced by gang violence over the past few years: authorities checked up on some of those living on the street or in makeshift shelters.
In the Dominican Republic, officials shuttered schools, government agencies and several airports with at least 25 of the country's 31 provinces under red alert. On Wednesday, more than 346,000 customers were without power, and some 120 aqueducts were out of service because of heavy rains, affecting more than 1.6 million customers.
Flooding already had been reported on Tuesday in Santo Domingo, and beyond, where residents prepared for heavy rainfall.
"We're scared of the river," said Doralisa Sánchez, a government employee who lives near the Ozama River that divides the city. She had to flee her home three times during previous storms.
She hoped Franklin wouldn't force her to temporarily abandon her home because she said people steal belongings left behind.
The storm worried thousands of Dominicans who live in flood-prone areas.
"When two drops of water fall here, this suddenly becomes flooded," said Juan Olivo Urbáez, who owns a small business in a community near the Ozama River.
The National Hurricane Center issued a tropical storm warning for the Turks and Caicos Islands, where up to 3 inches (8 centimeters) of rain was forecast in some areas.
Franklin is the seventh named storm of the Atlantic hurricane season, which runs from June 1 to Nov. 30. An eighth named storm, Gert, dissipated on Tuesday.
I​nformation from the Associated Press was used in this report.