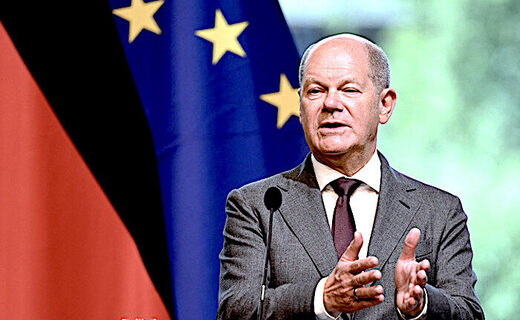 The chancellor says it is his aim to prevent a war with Russia amid talk of long-range missile deliveries to Kiev...
Germany will not get involved in the Ukraine conflict, but will continue to supply Kiev with weaponry, Chancellor Olaf Scholz has said. The comment comes amid a public discussion on
whether Berlin should supply long-range Taurus missiles to Kiev.
Speaking at an event organized by the
Augsburger Allgemeine
newspaper on Friday, Scholz was asked
whether there is a danger of Germany becoming "actively involved in the war."
He replied by saying that
it is his "aim to prevent this," and that this is why there are "no German soldiers in Ukraine and there won't be any."
The chancellor said, however, that Berlin will continue to supply Ukraine with weapons. He added that each decision in this respect has been taken cautiously and in coordination with allies. According to Scholz,
the West does not want the conflict to develop into a "war between Russia and NATO."
Earlier this month, Ukrainian lawmaker Egor Chernev said that many of his German colleagues were in favor of
providing Kiev with the Taurus missile, which has a range of around 500km.
Chernev claimed that a broad consensus on the issue had been reached among German political parties, and that
Ukraine is now awaiting an official decision.
Germany's RTL and n-tv commissioned a poll which indicated that
66% of Germans are opposed to the idea, with only 28% in favor.
Ukraine has been asking Germany for this type of missile since at least late May, though senior officials, including Scholz and Defense Minister Boris Pistorius, have so far rejected the requests.
The German leadership, however, also hesitated for several months on Leopard battle tank deliveries, before eventually acquiescing in late January.
With Ukraine's summer counteroffensive falling short of initial expectations, as acknowledged by senior officials in Kiev and Western capitals, NATO member states have vowed to continue to support the country for
'as long as it takes.'
Russia has warned Western nations that by sending weapons to Ukraine, they are only prolonging the conflict, while increasing the risk of a direct confrontation between NATO and Moscow.