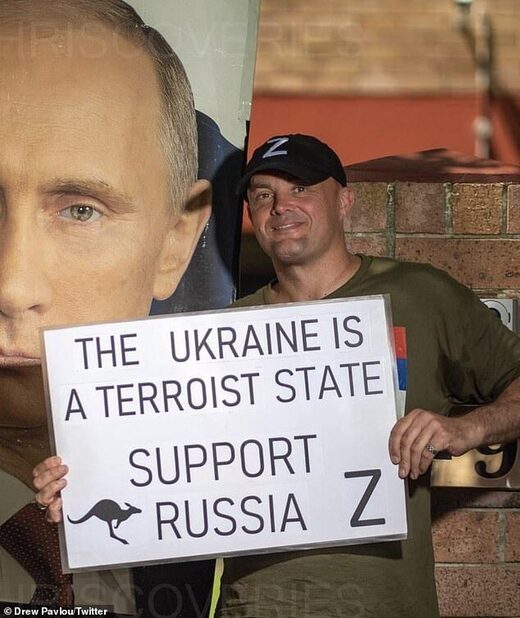 A man who
was a close associate
of
the ultra-nationalist
pro-Putin supporter Simeon Boikov - known as the 'Aussie Cossack'
- has been found dead by police.

Comment: For the legacy media 'ultra-nationalist' and 'far-right' are mostly used to smear people, rather than to be used as accurate descriptions, and they're particularly used against people with regards to issues like Russia's special operation in Ukraine, or vaccine mandates and lockdowns.


James Walters, 42,
was found on May 23 by police in
Sydney
's northern suburbs, some 10 days after he was reported missing
on May 13.
NSW
Police told Daily Mail Australia police were satisfied the body was that of Mr Walters, who had last been seen in the north-west Sydney suburb of Chatswood.
'We had concerns for the man's welfare,' a police spokesperson said, adding officers had seen nothing to suggest the death was suspicious.
However, because the death is unexplained police are preparing a report for the coroner.
Several photos show Mr Walters attending rallies or other events organised by Mr Boikov and other local supporters of Russia's invasion of Ukraine.
In one picture, Mr Walters stands in front of a giant photo portrait of Russian President Vladimir Putin holding a sign with the pro-invasion symbol 'Z'.
'The Ukraine is a terrorist state - Support Russia,' the sign reads.
In other pictures, Mr Walters can be seen wearing other symbols in support of the Russia's incursion into the neighbouring country, which has engulfed both nations in a protracted bloodbath and is now well into its second year.
On the encrypted Telegram message service,
Mr Boikov - who has been holed up in Sydney's Russian Consulate after an arrest warrant was issued for him in January, paid tribute to Mr Walters.
'James was a young Australian man who had great sympathy for Russia and was opposed to Australia supporting the Kiev terrorist regime,'
Mr Boikov wrote.
'He was a little eccentric, but always positive and sympathetic.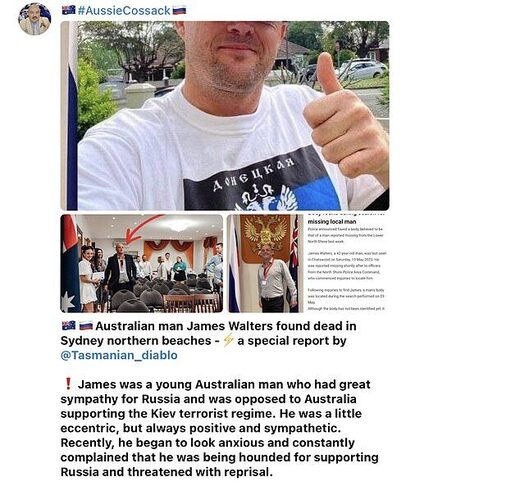 'Recently, he began to look anxious and constantly complained that he was being hounded for supporting Russia and threatened with reprisal.'
Mr Boikov
went on to make a series of
wild
allegations about local Ukrainians and the Australian government
.

Comment:A healthy man goes missing, is found dead, police have no no obvious explanation for his death, and his acquaintance makes the above remarks, and yet the police claim there is no reason for suspicion? This is at least a lead for police to investigate, even if it turns out to be false. Note the Daily Mail fails to mention these 'wild allegations'.

Considering how unnecessarily lengthy and repetitive Daily Mail articles can be, regardless of how inane or important the topic is, this article especially brief and lacking in relevant detail.


Last Tuesday, an outside party was held on the grounds of the Russian consulate to celebrate Russian forces capturing the eastern Ukrainian city of Bakhmut.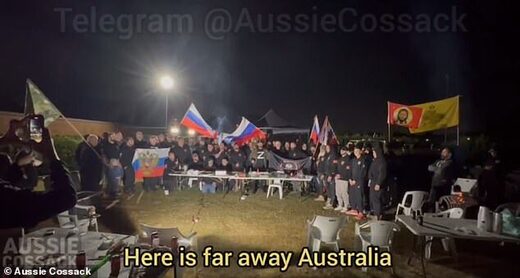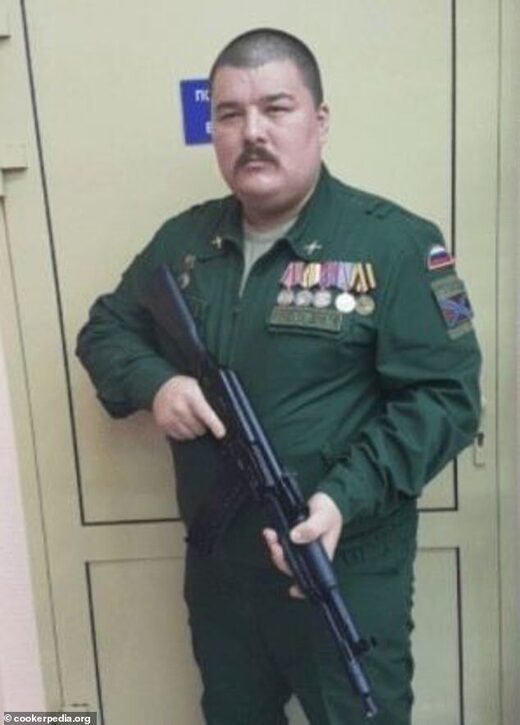 Comment:
Mr Boikov is also a talk radio host for popular online station, TNT; here's his Twitter profile picture (where he hasn't posted for at least 2 years):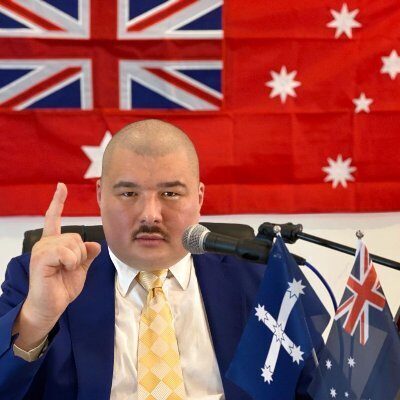 A video of the gathering showed about 50 men and male youths dressed almost entirely in black cheering the success and sending their encouragement to Russian forces and Mr Putin.
NSW police were called to event at around 6pm and spoke to one of the men attending but took no further action.
Mr Boikov, who brands himself the Aussie Cossack, has been living at the consulate since an arrest warrant was issued for him after he failed to turn up for a court hearing in January.