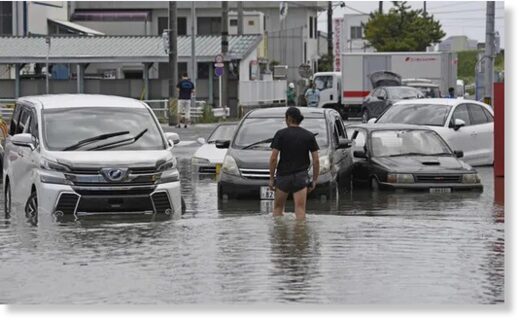 Heavy rain across parts of Japan killed one person, left two missing and injured dozens more, authorities said, with thousands of people issued evacuation warnings.
The inundation was caused by the remnants of former typhoon Mawar, downgraded to a tropical storm.
A rescue team in central Aichi region's Toyohashi, where the highest-level evacuation alert was issued on Friday, "found a man approximately in his 60s in a submerged car, but he was later confirmed dead", a city official said on Saturday.
In western Wakayama, where several rivers burst their banks, officials said they had resumed the search for a man and a woman missing in the region.
A total of six people were seriously injured and 24 suffered minor injuries as of Saturday morning, the Fire and Disaster Management Agency said.
In central and western Japan, many evacuation orders - which are non-compulsory, even at the highest level - were being downgraded as rains eased.
But new warnings were issued in areas close to Tokyo in the early morning due to flooding risks.
With
several cities including Toyohashi and Koshigaya near Tokyo reportedly seeing the highest 24-hour rainfall on record
, the Japan Meteorological Agency urged residents to "be on high alert for landslides, overflowing rivers and flooding of low-lying areas".
About 4,000 households in regions close to Tokyo suffered power outages early on Saturday, the Tokyo Electric Power Company said, but the issue was mostly resolved several hours later.
Shinkansen bullet trains were temporarily suspended between Tokyo and Nagoya, but Japan Railway said they resumed operations around noon.
Source: Agence France-Presse