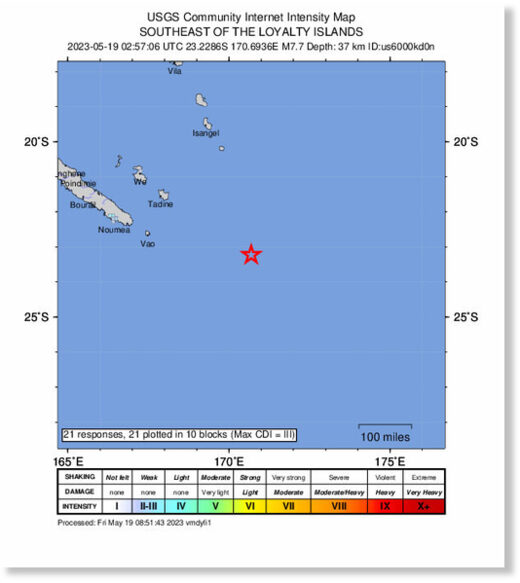 New Caledonia lifted its tsunami warning to citizens after a 7.7-magnitude earthquake struck on Friday in the Pacific Ocean southeast of the territory.
The quake was detected some 340 kilometers east of Vao city in New Caledonia, a French Pacific territory, according to the U.S. Geological Survey.
In New Caledonia, the police had evacuated the coast and tsunami sirens had been activated.
Tsunami waves of one-to-three meters above tide are possible along some coastal areas of Vanuatu, according to the Honolulu-based Pacific Tsunami Warning Center.
In Vanuatu, waves of just under half a meter above tide level were reported at Lenakel, while slightly smaller waves were observed or predicted for several other islands, the Honolulu-based Pacific Tsunami Warning Center said.
Anna Erick, who runs a beachfront hotel on Tanna island in Vanuatu, said she decided to head to higher ground with her children after unusually big waves began to crash on a nearby beach.
She said the waves were about knee-high and although she had decided to evacuate out of precaution, others were still watching the waves.
Others on Vanuatu were unaware of any emergency.
John Nicholls, owner of the Rockwater Resort, also on Tanna, said he could see no unusual waves at the beach and had no idea a quake had been detected.
An AFP correspondent on New Caledonia said people evacuated one beach after warning sirens sounded.
The tsunami warning center warned of possible smaller tsunami waves of 0.3-1.0 meters in New Caledonia, Fiji, Kiribati and New Zealand.
A hotel receptionist in the New Caledonia capital Noumea said she had felt no shaking from the tremor.
A travel agent on the island of Ile des Pins on the eastern edge of the New Caledonia archipelago said she had also not felt the tremor or heard any evacuation warning.
"Everybody is still on the beach and in the restaurants," she said.
The Australian bureau of meteorology said there was "no land threat to the Australian mainland or Australian territories."
Earthquakes are common along the Pacific "Ring of Fire," an arc of intense seismic activity that stretches through Southeast Asia and across the Pacific basin.
Earlier this month, an earthquake in Japan killed one person, injured dozens more and destroyed several buildings.
And in April, an evacuation order was issued to coastal dwellers on a remote Philippine island after a 6.2-magnitude quake struck in the ocean off the archipelago, triggering a tsunami warning, though there were no reports of damage.