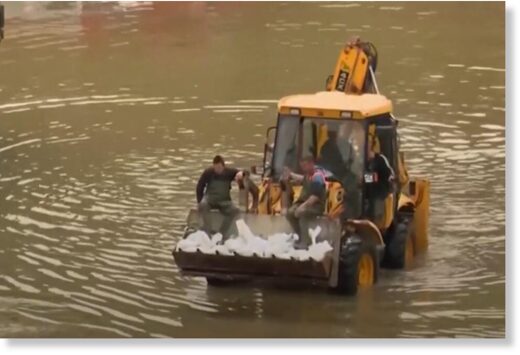 Rescue teams and hundreds of soldiers were deployed on Monday to help people in parts of Croatia hit by floods.
Heavy rain in recent days caused some rivers to overflow their banks, flooding homes, roads and public buildings in some towns.
Classes in the town of Obrovac were cancelled after water got into the schools there.
Parts of the town were left without electricity, and water covered the centre of Obrovac. In nearby Gracac, about a dozen people had to move to upper floors or evacuate their homes to avoid surging water.
Some 300 army troops stepped in to help people in need and to bolster flood defences, authorities said. Emergency crews said they were bringing food to people stuck in their homes.
Photos from the scene showed people using small boats to move around and water going over sand bags put in place to prevent flooding. A rescuer could be seen carrying a small dog he saved from the floods.
Croatian Prime Minister Andrej Plenkovic said his government would provide all necessary funding and aid.
Authorities in Hrvatska Kostajnica, a town on the border with Bosnia, declared an emergency after the Una River rose dramatically overnight. Floods were also reported downstream in north-western Bosnia.
Meteorologists in Croatia said more rain was expected in the coming days.
Source: PA News Agency