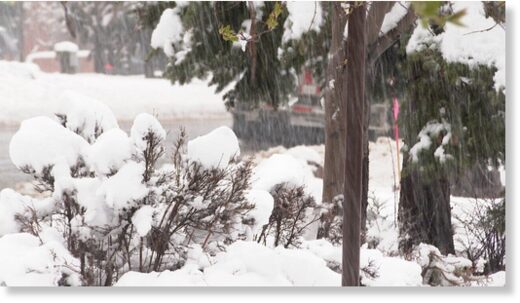 Thousands of people were without power on Thursday in Teller county after heavy and wet snow hit the area. Throughout the day,
about four to six inches of wet, heavy snow fell across the county
, making for a snowy and slushy commute for many.
At one point, more than 8,000 customers with Core Electric Cooperative were without power. Teller County offices also shut down because of the snow.
Students in Woodland Park were sent home around noon. The superintendent of Cripple Creek-Victor schools says the weather changed quickly and they weren't able to call a delay or closure. They gave parents the option to pick up students early.
One Woodland Park resident said storms like this are not unusual this time of year.
"It's pretty normal. I've spent my whole life year, so I remember growing up, I feel like we had bigger snow storms in the fall, but this is becoming a very regular thing of having this wet, heavy snow. We have at least one or two good storms in the spring before we're done with it," said Caylan Lawson.
Some traffic lights at intersections in Woodland Park were also flashing red right now, so drivers had to treat those as a four-way-stop.
City crews were also seen plowing the roads, and others were shoveling sidewalks.
The snow is expected to pick up on Thursday night and last into early into Friday morning, with improvements throughout the day on Friday.