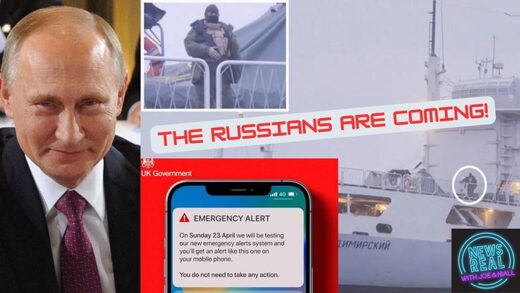 Attention citizens! Putin is preparing to attack the UK! At least, that's what British media and govt officials are reporting, while testing their new 'emergency alerts' system on every mobile phone in the country. The government wouldn't do fake news and hype up non-existent threats, would it?
Also on this
NewsReal
, Joe and Niall discuss Anglo-American certainty that Ukraine is poised to retake Crimea and join NATO and the 'Eur-Atlantic Family' - whatever that is - the admission by an ex-CIA Director that 'the US intelligence community' interfered in the 2020 presidential election, the confirmation by Elon Musk that said community has been 'all over' the back-end of social media platforms reading people's private messages, the potential impact of Bobby Kennedy Jr's entry into the 2024 presidential race, Trump's warning that the US is in its worst crisis in 200 years, and more!
Running Time:
01:23:08
Download:
MP3
— 57.1 MB
This podcast is also available to view, share and download on
Rumble
,
Odysee
and
VK
.
Show Notes